The right dermal filler treatment can elevate your natural facial features, contouring your natural allure and beauty. You'll suddenly restore your confidence and self-belief. 
Unfortunately, sometimes, facial contouring might not come out as expected, and you're left with poor outcomes. Worse still, you have to manage and fix it. 
Luckily, our guide can help you fix face contouring mistakes caused by dermal fillers. 
Why Face Contouring Goes Wrong 
There are a few reasons why filler face contouring can go wrong. These can include:
Incorrect injection technique 

Wrong filler product selection

Excessive or not enough filler 

Poor aftercare guidance and management 
There are two more primary red flags that can cause issues: visiting an unqualified and non-certified "professional" that does not have the experience or medical background to carefully and safely administer dermal fillers. Secondly, the use of fake fillers that have not been approved by Health Canada. These can be dangerous to your health, resulting in long-term issues. 
It's imperative that you only get dermal fillers in Calgary and Edmonton from a professional, certified professional who uses approved products.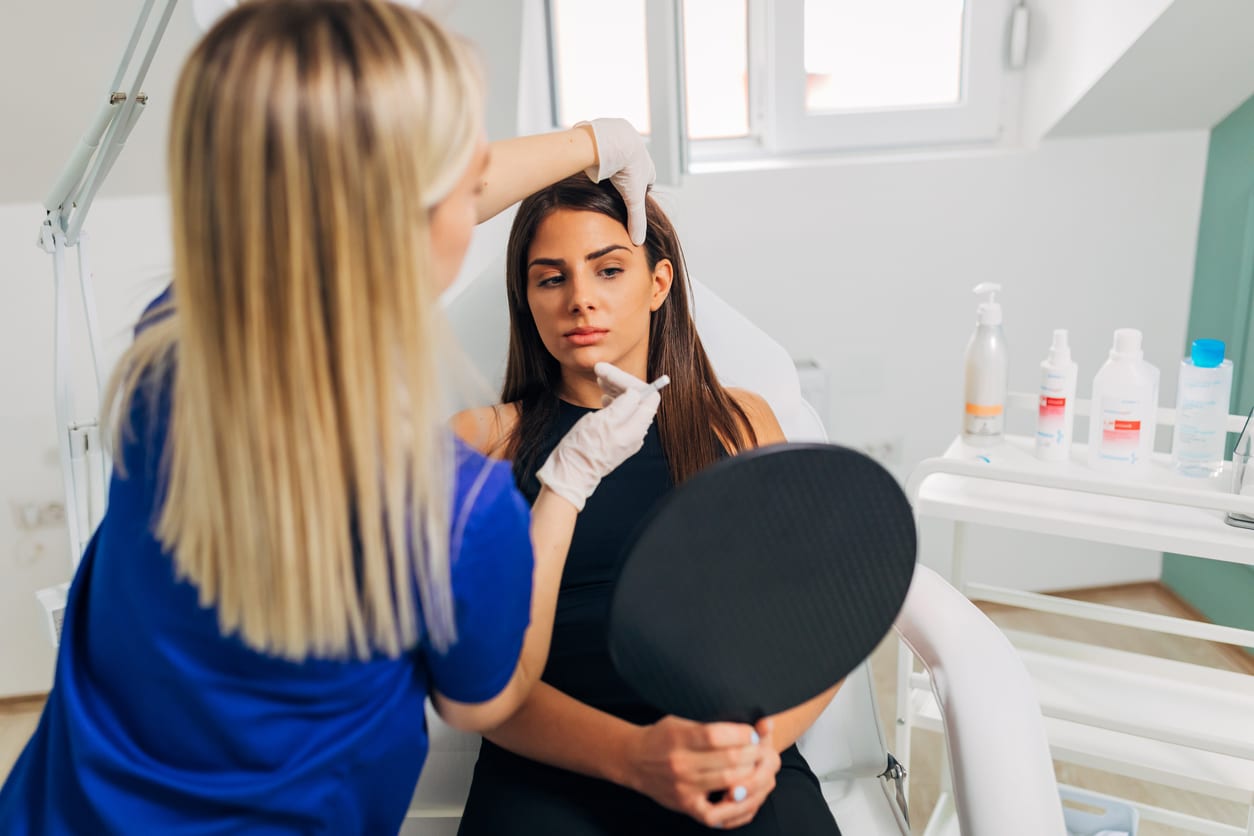 Signs of Contouring Mistakes 
There are very distinct signs that the contouring treatment has gone wrong. Here are some of the signs you should keep a lookout for: 
Persistent Puffiness: Normally, you'll experience puffiness for a few days after treatment. However, if the puffiness persists for more than a few days, it could be because of too much filler or vascular occlusion, where the injection has been injected too close to a blood vessel. It's important that you visit a certified injector soon to reduce any potential problems. 
Asymmetric Fullness: If you find that the shape and contour of your face are too full, it could be a sign of asymmetric fullness. This occurs when too much filler was injected. This is also a common problem for lip injections, also known as "duck lips".
Uneven Face: Do you notice that your facial features are unbalanced and uneven? Chances are that inaccurate injection technique has resulted in major off balances. You should be treated as soon as possible to restore your natural contour. 
(Sounds familiar? Read our guide to "How To Fix Botched Lip Fillers")  
How to Fix Face Contouring Mistakes 
So, you've had a bad experience with dermal fillers, which has left you with some poor results. What's the next step to take? 
Ultimately, it depends on the condition and status of your previous treatment. You will require an assessment from a certified and trusted injector (like Juvea!) to determine your next steps. There are a few ways we can proceed from here: 
If you need to reduce the amount of filler in your face, we can dissolve it by using hyaluronidase, which is a soluble protein enzyme. This protein destroys the bonds holding the hyaluronic acid in the skin. However, you will have to wait around two full weeks for the results to take effect. We can then reassess your facial structure and symmetry, providing you with a clear treatment plan going forward, so you get the best results possible. 

If there is unevenness or unbalanced features due to insufficient filler, then we might not have to remove it. We can simply realign it with a tad more filler, balancing out your facial features perfectly. Once again, we'll have to have a consultation with you to discuss

your personal goals, before explaining how we'll apply the filler so you get the transformation you want. 
The most important thing to note: if you believe that you are experiencing contouring problems due to fillers that you reach out to our medi spa immediately. We're ready to help you when you need it the most! 
At Juvea Aesthetics, we are redefining your natural beauty. At our medi spas in Calgary and Edmonton, we are focused and committed to highlighting your best features without compromising the integrity of your unique beauty. We believe in enhancing your natural look with premium medical aesthetics in Calgary, including Botox, dermal fillers, lip injections and belkyra. We also offer vitamin drips and therapy, mesotherapy and skincare consultations. Schedule your appointment at our Calgary medi spa by calling 403-975-7523.