What is microneedling in Calgary?
Microneedling is a non-invasive cosmetic procedure that involves minuscule needles that penetrate the top layer of the skin, the epidermis. This specific treatment is a viable alternative to other, more expensive and intensive cosmetic procedures that provide similar results. Much like many cosmetic procedures, both surgical and not, microneedling in Calgary is meant to enhance the skin in several ways, culminating in clearer and smoother skin. This treatment has been steadily growing in popularity over the years because of its price accessibility and its effectiveness in correcting a multitude of issues. 
Discover what microneedling is meant to do for your skin, how it works, the advantages of the treatment, and other information pertaining to this cosmetic procedure. 
What is microneedling meant to do?
As aforementioned, microneedling is a cosmetic treatment that consists of small and sterile needles pricking small holes in the top layer of skin. These minimally invasive controlled penetrations to the skin will stimulate collagen and elastin production, and as the skin heals from these minor punctures, it causes cellular rejuvenation; thus, scarring and dark spots can be diminished. After getting microneedling treatment, you will notice your skin will be more youthful and clear, similar to the results of a chemical peel and still with a short social downtime.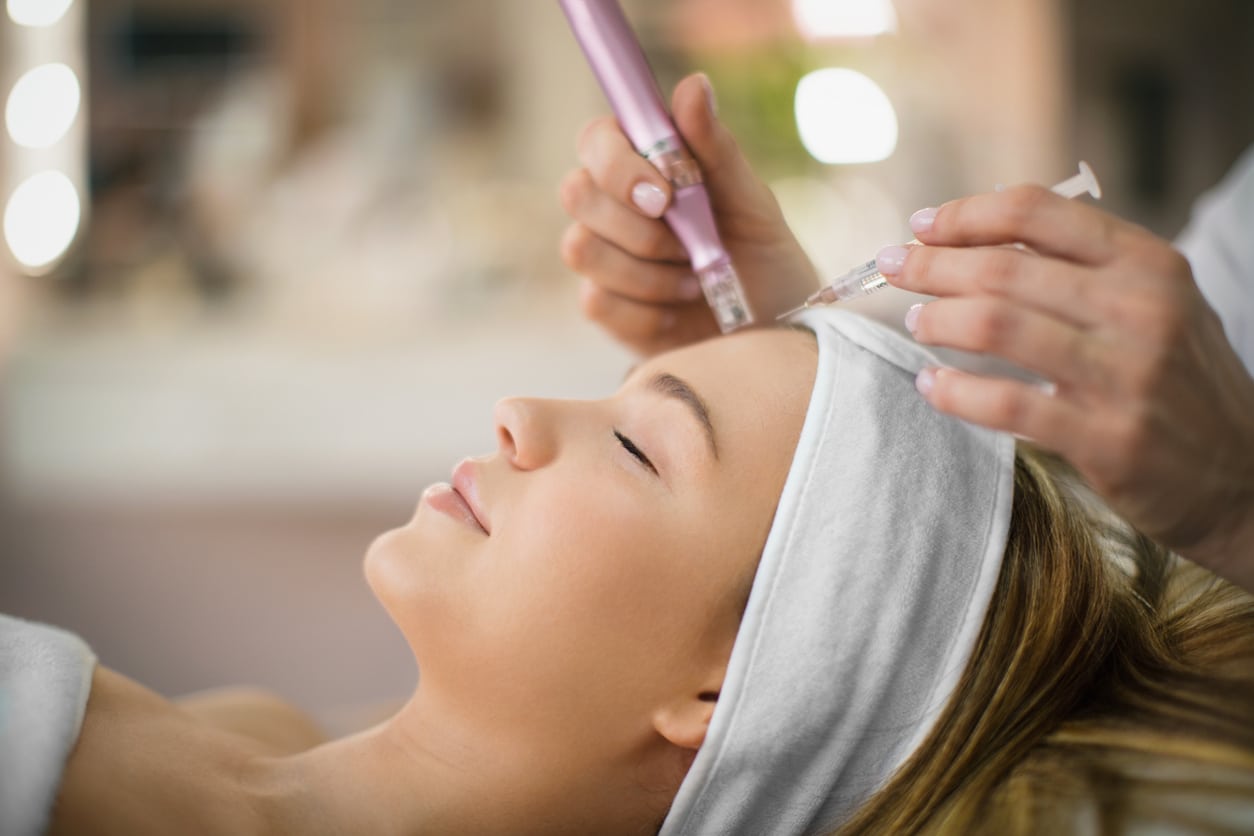 How does it work?
The treatment of microneedling is meant to encourage and promote collagen and elastin production, where the punctures in the skin administered during the treatment will eventually heal and, during the healing process (cellular rejuvenation), will produce new collagen tissue. This extensive new tissue that can be produced over the entire treated area will be more even in texture and tone, and the skin will also be much firmer. With further guidance from a cosmetic specialist, microneedling can be optimally paired with additional serums and other treatments that will completely revitalize the skin for a long period. 
Benefits
There are many different benefits to receiving a microneedling treatment, including minimal invasiveness and minor pain experienced, its ability to rejuvenate and plump skin, and the procedure having very few side effects and requiring little to no downtime. This procedure can be tailored for those with a busy schedule and who want a more accessible skincare treatment that procures similar results as other, more intensive treatments. 
Target areas
With microneedling, you can correct uneven skin tone and texture, reduce enlarged pores, diminish dark spots and hyperpigmentation, reduce the number of fine lines and wrinkles, reduce the intensity of scars and acne, assist those with alopecia, reduce the appearance of stretch marks, and enhance skin elasticity. These are only some problem areas and skin corrections that microneedling can help with. This is not a face-only treatment. We treat a lot of scarring and marks on the body with our microneedling device.
Potential side effects
Similar to most cosmetic procedures currently available, you should expect some side effects from microneedling treatment. Before the procedure, you should speak with the professional administering the microneedling, so you can comprehend the potential side effects and ensure that your safety is a priority. With microneedling, at most, you will experience skin irritation and redness in the days following the treatment. If you experience excessive peeling, bleeding, or an infection, you should contact a healthcare professional. Microneedling might not be suitable for your skin if you have psoriasis or eczema, open wounds and acne, or a substantial amount of skin scars. 
At Juvea Aesthetics, we are redefining your natural beauty. At our medispa in Calgary, we are focused and committed to highlighting your best features without compromising the integrity of your unique beauty. We believe in enhancing your natural look with premium medical aesthetics in Calgary, including Botox, dermal fillers, lip injections and belkyra. We also offer vitamin drips and therapy, mesotherapy and skincare consultations.